Happy Birthday, ACA!
March 23, 2014, is a special day for us. It's the first birthday when the #ACA has been fully in force. We decided to mark the occasion by tweeting some #ACAturns4 Sunday brunch-time tidbits, memories and flashbacks from recent years. In case you were not able to celebrate with us, here is a roundup of our tweets – and some from our good friends.
And now we are 4 A look back …#ACAturns4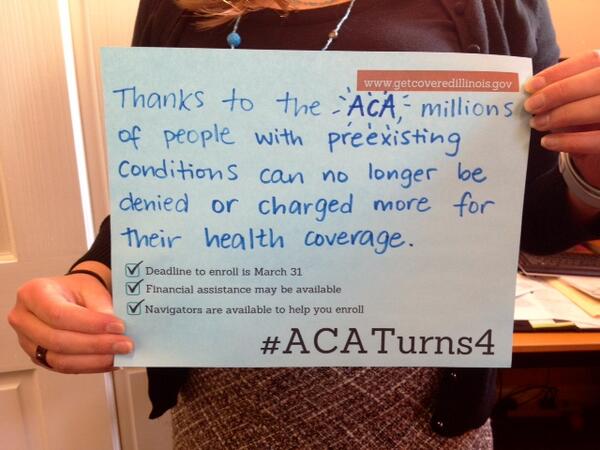 @EverThriveIL: Let's celebrate! The #ACA turns 4 Sunday so we're sharing our favorite ACA facts Join us using #ACAturns4 #GetCovered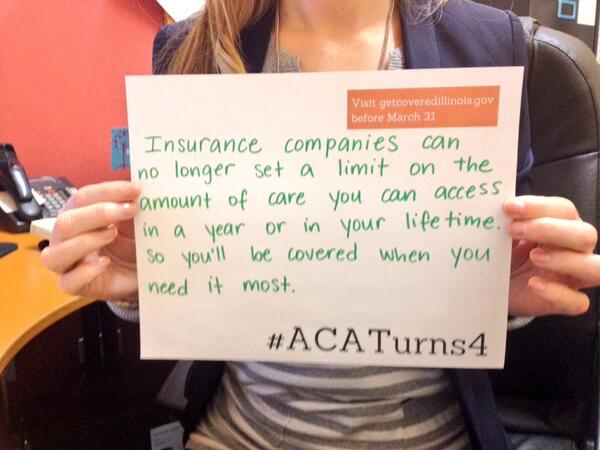 @EverThriveIL: #ACAturns4 tomorrow! The end of lifetime limits is just one reason we're celebrating. How about you?
‏@LauraBotwinick Happy Birthday ACA – approved March 23, 2010, upheld June 28, 2012; many positive changes, much work to be done. #ACAturns4 #healthcare4all

In 2011: "As Health Law Turns 1, Debate Far From Settled" NPR
In 2011: "One Year of the Affordable Care Act: We've Come a Long Way" The White House
In 2011: "The ACA has already delivered important wins for Illinois' residents" IHM Blog
In 2012: "A good time to take stock of … the biggest accomplishments" Daily Kos
In 2012: "The Story of the Affordable Care Act" White House video
In 2012: "Help Tell the Story that Health Care Works" IHM Blog
@KYHealthCOOP : Check out this infographic on the progress of the #AffordableCareAct #ACAturns4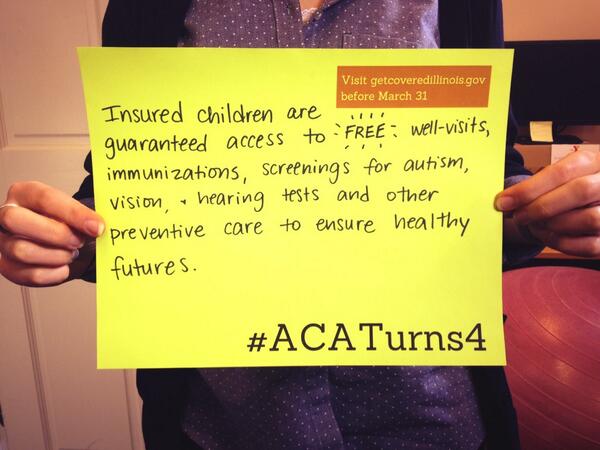 @EverThriveIL: Happy 4th birthday, #ACA! Thanks for keeping our kids #healthy with FREE preventive care #ACAturns4 @CoveredIllinois
@MichaelDavid_W 4 years ago, @BarackObama signed the MOST important piece of legislation of his presidency. Happy Birthday, ACA! #ACAturns4 #publichealth
In 2013: "Don't Tread on My Obamacare: A Son's Battle Cry" Daily Kos
In 2013: "Obamacare's five biggest challenges" Ezra Klein
In 2013: "Happy Birthday ObamaCare!" Photos, videos etc from the Obama Diary
In 2013: "The ACA is a historic law and its third birthday should be celebrated" IHM Blog
Happy Birthday #ACA! "10 Things You Now Get to Keep with Obamacare"
HAPPY #ACA BIRTHDAY! "Here's what's gone down in the past 4 years